Home
Bong Sen Hotel Annex is the best choice for guests who looking for peaceful, quiet surrounding. The hotel is stated for budget demands with 57 f urnished guestrooms which are specially designed for business travelers and tourists with the hotel's motto "Budget rate with all your need". Located in the center of Saigon, the hotel offers easily access to the most interesting sights of shopping district. Stay with Bong Sen Hotel Annex means discover Saigon City in the best way.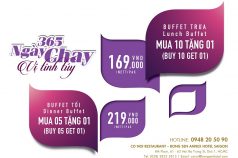 Lunch buffet: buy 10 get 1 Dinner buffet: buy 5 get 1 Hotline: 0948 20 50 90
In 2018 lively summer, Bong Sen Annex Hotel Sai Gon proudly introduces special offer, discount 38% when you book directly...